NDCAN
CAMPAIGN NEWS

–

CARERS GO TO HOLYROOD
Thursday May 31 2012
NATIONAL DEMENTIA CARERS ACTION NETWORK

MEET WITH DEPUTY FIRST MINISTER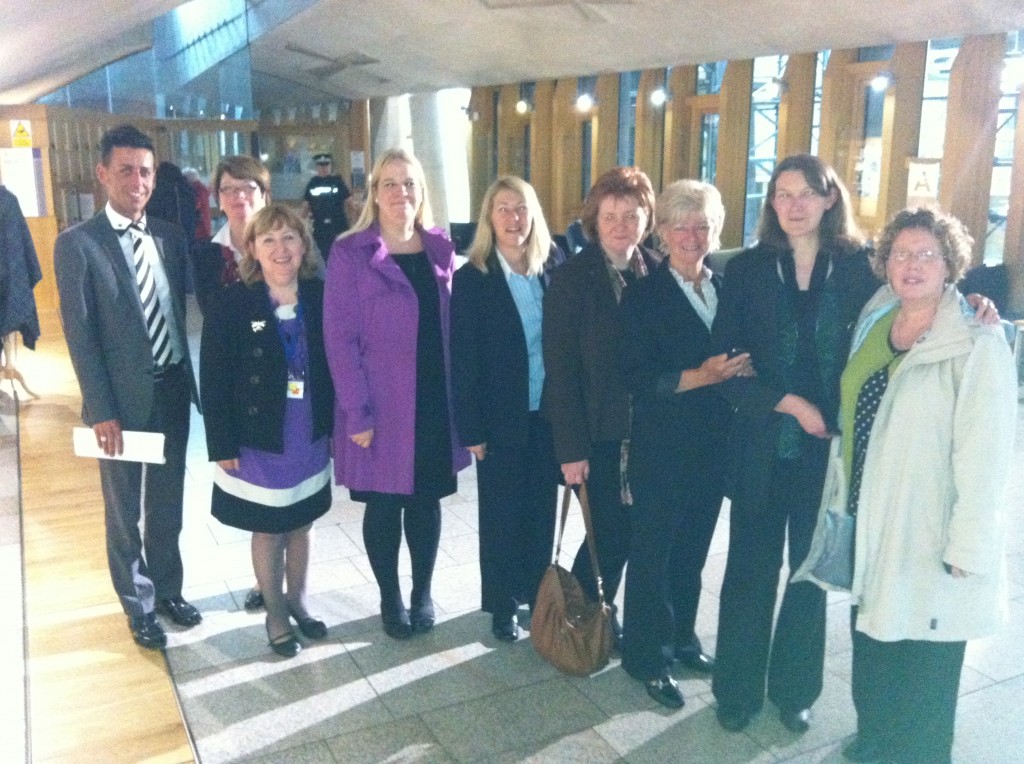 Members of Alzheimer Scotland's

National Dementia Carers Action Network

met today with Scotland's Deputy First Minister Nicola Sturgeon, to present her with a list of five questions they would like to see answered by the Scottish Government.
THE FIVE QUESTIONS
1
National Dementia Strategy
NDCAN welcomes the national dementia strategy and the positive work that has followed such as the promoting excellence framework; the standards of care for dementia; the dementia champions programme; investment in dementia nurse consultants and the post diagnostic support guarantee.  While we acknowledge that these developments will take time to bring about change we also recognise that, two years into a three year strategy, the current strategy has yet to have an impact on the lives of many people with dementia and those who care for them.
What steps will the Deputy First Minister take to ensure that the strategy delivers on its aim to deliver world class dementia services in Scotland for people living with dementia now and in the future?
2
Care Homes
Some members of Alzheimer Scotland's National Dementia Carers Action Network have experience of caring for relatives with dementia who have gone on to live in care homes.  The network believes that too often the inspection process is concerned with ticking boxes and fails to measure whether care homes deliver good outcomes for people with dementia.  This also means that inspection reports are not always helpful in choosing a care home.
We expect the highest standards from care home staff yet too often they experience poor pay and employment conditions. We need to place a higher value on the work done by care home staff, help them to take pride in what they do, and show them the respect they deserve in their role. We believe it is important to
respect the human and legal rights of care home residents and staff
make the inspection process more outcomes-focussed
improve the level of accountability and transparency
ensure inspection reports are helpful to people when choosing a care home
recognise and acknowledge care homes which deliver high quality personalised care
Taking these points into account how does the Deputy First Minister intend to ensure that the human and legal rights of care home residents and staff are fully recognised and respected?
3 

        
Stresses on Primary Carers at Home
Primary carers are unpaid and stressed.  Both they and the people with dementia they care for are vulnerable.  The members of NDCAN say that often the most difficult times are during the night yet there is little or no help available if a crisis occurs at these times.  Action is required now to improve this situation.
Eligibility criteria thresholds are set so high that only those with the most substantial and urgent needs can access community care services and support.  This means that resources are often used to fund expensive interventions such as care home or hospital admissions.  Spending modest amounts to help support people with dementia and carers can help reduce the need for more costly crisis interventions and improve the lives of people with dementia and their families.
How will the Deputy First Minister ensure that we shift spending to support people with dementia and carers better in the community and reduce the need for expensive crisis interventions while ensuring that carers of people with dementia can access help at times when a crisis does occur?
4
Consistent and high quality care in all regions of Scotland

Why are dementia services and support difficult to access in some areas of Scotland (e.g. Highland region) and how can we ensure that people with dementia and those who care for them have access to high quality dementia services and support in all areas of Scotland? 
5  

    
Dementia specific support services for people with dementia and their carers.
The Deputy First Minister will be aware that in a one year period Jeannette and Ken had 106 different care workers.  Ken deserved to receive support from a small group of skilled care workers who he could get to know and trust and who understood the complex nature of dementia.   NDCAN played a significant role in developing AlzheimerScotland's local election manifesto.  The manifesto includes seeking commitments to protect dementia specific carer support services; protect dementia specific care at home services, and ensure that services to people with dementia are not retendered unless agreed by the person with dementia or their carer.
What action will the Deputy First Minister take to ensure that no one goes through a similar experience to Jeanette and Ken?
What will the Deputy First Minister do to ensure services for people are commissioned differently so that the services provided for people with dementia are able to provide skilled personalised support of the highest standards?
WHO ARE

NDCAN

?

The NATIONAL DEMENTIA CARERS' ACTION NETWORK (NDCAN) was established in late 2011 under the auspices of Alzheimer Scotland  to bring carers of people with dementia together not only to raise issues that affect us, but also to campaign to get them changed.

Issues like:
A campaign manifesto to put to government to bring the plight of carers to the fore so that Government  strategies reach grass roots as intended.
Jeanette's campaign (Aberdeen) highlighting the need not only for a core team of Home Carers attending a person with dementia, but also how important it is to ensure basic dementia training for all carers …
Ann P's campaign (Portgower, East Sutherland) highlighting the need for early dementia support not only for the person diagnosed with dementia, but also their family carers.