Houses in Colva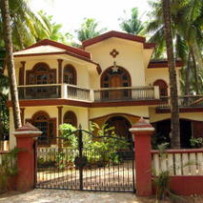 A walk, from our house here, of approximately 2.5 kms to the best beach – absolutely fantastic, is full of houses along the full length through a winding road through the palm trees etc.
What came to me very quickly is that almost all the houses are painted by bold colours.  Each house is a different colour.
The photos on this blog hopefully give you some ideas for your house at home which will increase the financial inputs to Dulux.